Education Slide 1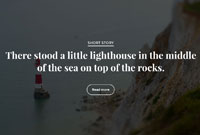 A NOVA world to explore: fully planned trip or a journey of your own?
Whether you are a public organization looking to get your teachers introduced to new knowledge connected to Tourism & Hospitality, a tourism player wanting to learn new ways to organize and deploy data to increment revenues, or an accomplished leader in the tourism sector seeking to expand your know-how, toho offers standardized learning experiences as well as customized education services to better meet your own personal and organizational needs.
Enter a NOVA way to experience education.
Our Schools Educational Offer: